Landscapes from the Age of Impressionism
, on view at the Akron Art Museum October 29, 2011 – February 5, 2012, offered a broad survey of landscape painting as practiced by leading French artists from Gustave Courbet to Claude Monet and their most significant American followers including Childe Hassam and John Singer Sargent. This exquisite exhibition of more than fifty paintings included many of the finest examples of French and American impressionist landscapes from the collection of the Brooklyn Museum as well as American impressionist paintings from the Akron Art Museum.
Among the earliest works in the exhibition were
Charles-François Daubigny's The River Seine at Mantes (1856)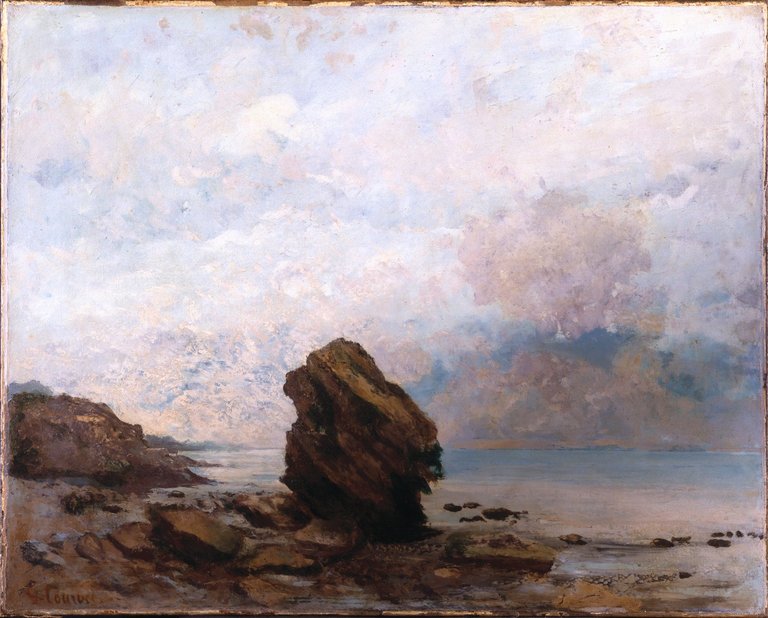 and Gustave Courbet's Isolated Rock (1862).
Both reveal the waning influence of the academic Beaux-Arts tradition, in which generalized landscapes served merely as background for historical or mythological scenes.
A new generation of artists, known as the Barbizon school, painted preparatory sketches directly from nature–en plein air–in the environs of Paris, setting the stage for impressionism's dramatic assault on officially-sanctioned painting styles.
Impressionists Claude Monet, Camille Pissaro and Gustave Caillebotte painted highly elaborated "impressions"—the seemingly spontaneous, rapidly executed landscapes and cityscapes that prompted the name of their movement. Monet was represented in
Landscapes from the Age of Impressionism
with
Rising Tide at Pourville (1882),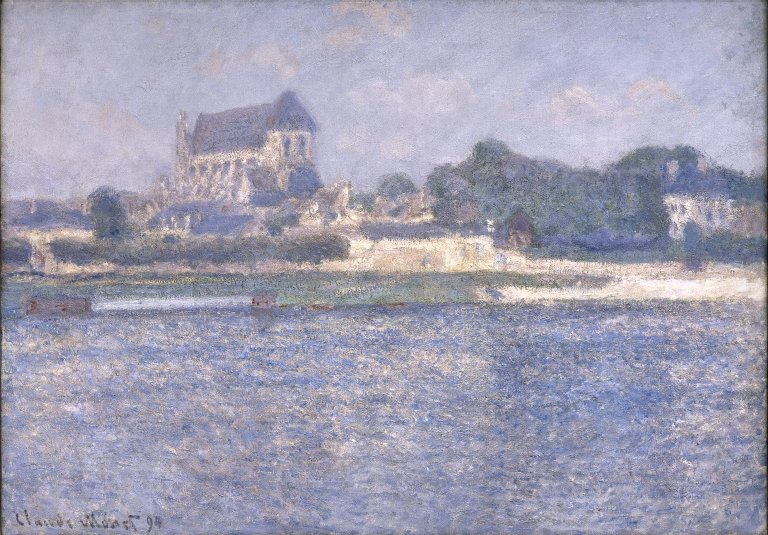 Vernon in the Sun (1894)
and The Islets at Port-Villez (1897).
In the late 19th century, Americans who aspired to a career in painting typically trained at fine arts academies in Europe, especially Paris. While there, many American artists like Frederick Frieseke and Willard Metcalf were inspired by the light-filled canvases of leading impressionists to take their easels outdoors, sometimes setting up right next to a French mentor who could provide informal instruction.
Theodore Robinson, represented in the exhibition by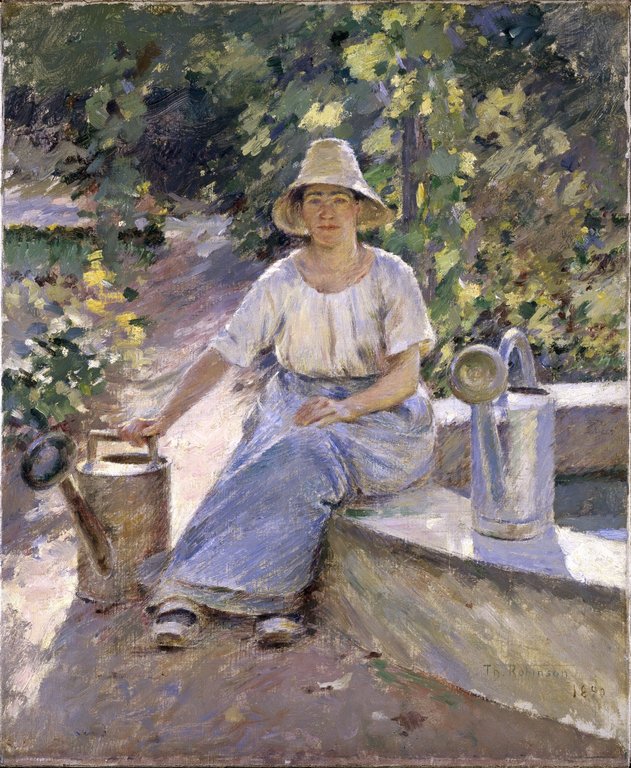 The Watering Pots (1890)
and La Roche Guyon (1891),
established a warm friendship with Monet over the course of several summers spent in Giverny.
Back in America, simultaneous trends in depicting the beauty of rural areas untouched by industrialization and populated urban locales demonstrate the competing impulses of nostalgia for a simpler time and delight in the new modern era. In works such as
William Glackens's Bathing at Bellport, Long Island (1912),
Julian Alden Weir's Willimantic Thread Factory (1893)
and Robert Spencer's The White Tenement (1913)
populated beaches, factories and tenements are given the same treatment as French Impressionist landscapes, painted with brilliant colors and lively, broken brushwork.
Impressionist works drawn from the Akron Art Museum's collection included
Childe Hassam's Bedford Hills (1908),
Frederick Frieseke's Through the Vines (1908),
John Twachtman's The Winding Brook (1887-1900),
Willard Metcalf's Maytime (1909-1914)
and Julian Alden Weir's White Oaks (1913).
Julian Alden Weir was a prominent American impressionist who was well represented in the exhibition with the early
A French Homestead (1878),
Willimantic Thread Factory (1893)(above) and the mature work White Oaks (1913), (above) which demonstrates how much the artist's style evolved towards impressionism after he initially rejected it. When Weir first encountered impressionist paintings in France in 1877, he wrote, "I never in my life saw more horrible things."
The American Willard Metcalf, a close friend and colleague of Weir, was often commended by contemporaries for his patriotic delight in depicting the New England landscape where he lived and worked. Maytime exemplifies Metcalf's ability to render the character of the individual seasons through careful observation in nature of the transitory effects of light and color. Maytime, wrote Metcalf, "has always been a favorite of mine, in as much as I felt that I had succeeded in getting some of the elusiveness of that beautiful spring morning."
The breadth of works included in Landscapes from the Age of Impressionism told the story of the development of French impressionism and its impact on American painting during a period when industrialization and technological advances were radically altering the face of the landscape, a phenomenon that artists responded to in highly personal ways. Artists forged strong relationships on both sides of the Atlantic through individual friendships, artist colonies and new artist groups, which afforded the artists a sense of community and belonging in a rapidly changing world.
This exhibition was organized by the Brooklyn Museum.