MASTERWORKS FROM THE MORGAN: Drawings (April 29–through July 2, 2006) comprised approximately one hundred works from the fifteenth to twentieth centuries, highlighting the breadth and depth of the Morgan's holdings. The exhibition chronicled the history of the Morgan's collection, as it contains works from the initial group of drawings purchased by Pierpont Morgan in 1909 to notable acquisitions and gifts since the institution's founding in 1924 to works acquired in the last several years.
Most of the works in the exhibition were presented by school, with large sections dedicated to Italian, French, and Netherlandish and Flemish drawings and a smaller contingent of works by British, Spanish, and German artists. The concluding section will consist of modern drawings by late-nineteenth- and early-twentieth-century artists. Works on view include drawings by sixteenth-century Italian artists, such as Leonardo, Raphael, and Michelangelo; seventeenth-century Dutch and Flemish masters Rembrandt and Rubens; eighteenth-century French and Italian artists, such as Watteau and Tiepolo; and nineteenth- and early twentieth-century artists, such as Cézanne, Delacroix, Degas, Picasso, and Pollock.
Important examples include one of only four Jacopo da Pontormo drawings in America,
Standing Male Nude Seen from the Back and Two Seated Nudes (1517–21);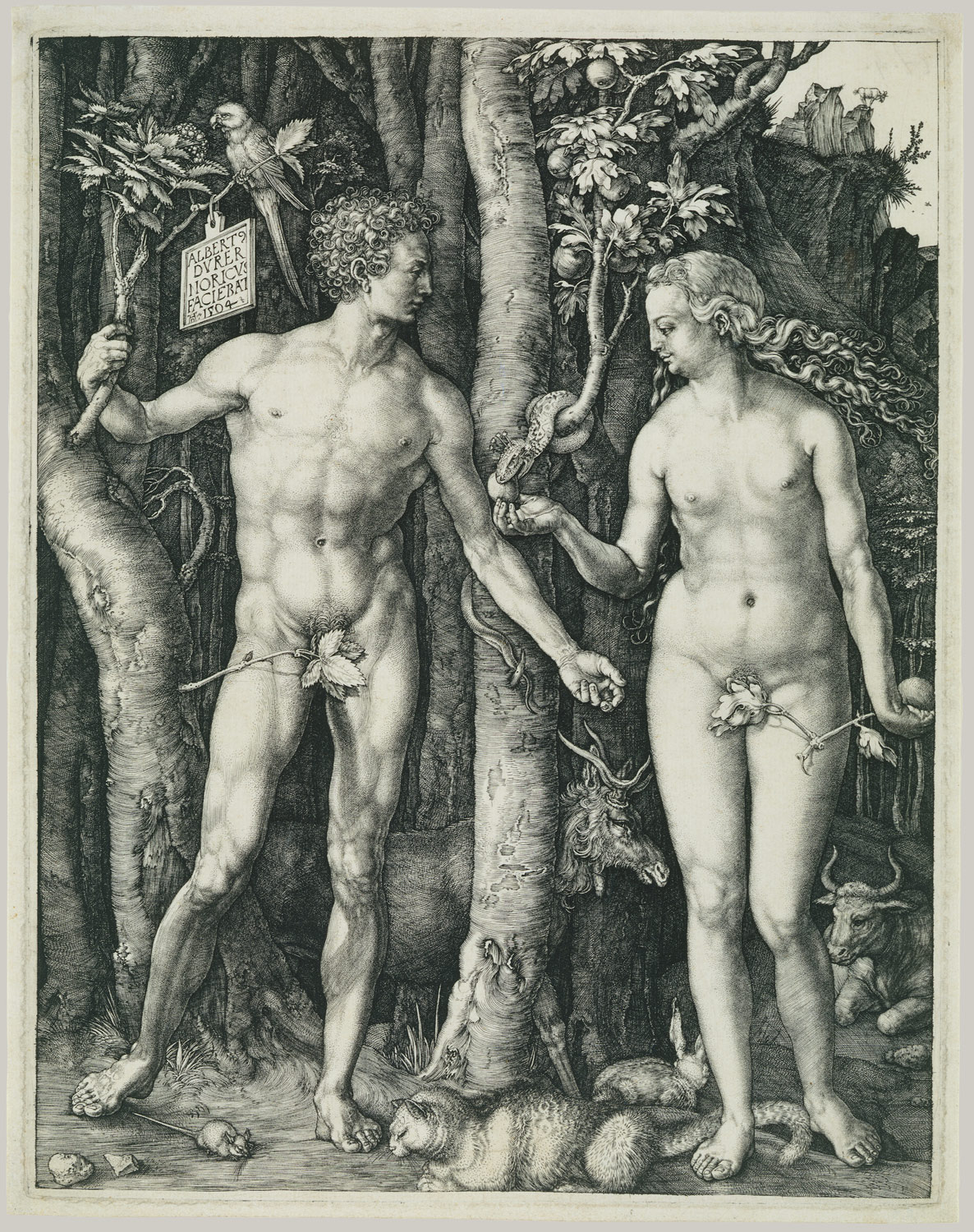 Albrecht Dürer's Adam and Eve
(1504),
one of the most important drawings by this seminal German artist;
Hendrick Goltzius's Young Man Holding a Skull and a Tulip (1614),
an iconic drawing by the draftsman and engraver and one of the most requested by visitors;
and Rembrandt Harmensz. van Rijn's The Bulwark de Rose and the Windmill de Smeerpot (ca. 1649–52),
by far the most important landscape by Rembrandt in the collection and one of the finest of his existing Amsterdam views.
Other works include
Jean-Antoine Watteau's Two Studies of the Head and Shoulders of a Little Girl (ca. 1717),
a masterpiece in the trios-crayon technique by the most influential of eighteenth-century French draftsmen, whose name is synonymous with the rococo;
Thomas Gainsborough's Study of a Lady (ca. 1785),
a complex and technically virtuosic study by one of the most significant English portrait painters of the eighteenth century;
Pablo Picasso's Portrait of Marie-Thérèse Walter (1936),
an emotionally insightful and technically brilliant pen and ink study of the artist's lover;
and two recent acquisitions never before seen at the Morgan—
Erich Heckel's Seated Man (Self-Portrait) (1912),
and Juan Gris's Man with Opera Hat (1912).
More from the exhibition:
William Blake (1757–1827) British "When the Morning Stars Sang Together" (Job 38:4–7), ca. 1804–7 Pen and black ink, watercolor, over traces of graphite.
The series of twenty-one watercolor illustrations for the Book of Job are one of Blake's supreme achievements.
William Blake's Here, God reenacts the creation of the world, while Job and his wife kneel below. The scene follows the moment in which Job challenged God to appear and explain why he deserved the succession of evils that devastated him. "Then the Lord answered Job out of the whirlwind . . . Where wast thou when I laid the foundations of the earth? . . . When the morning stars sang together, and all the sons of God shouted for joy?" 2001.76. Gift of J. P. Morgan, Jr., 1924.
Paul Bril (1554–1626) Netherlandish Wooded Ravine with Distant Harbor View, ca. 1590–95 Pen and brown ink, some point of brush and brown, gray, and blue wash, heightened with white gouache over traces of black chalk One of the most influential Northern artists working in Rome in the late sixteenth century, Bril is credited with founding the Italianate landscape tradition perfected in the next century by Claude Lorrain. This drawing is one of only about one hundred sheets, mostly finished landscapes, by the artist that have survived. The composition may have served as the model for a painting, now lost but recorded in a photograph.
John Constable (1776–1837) British View of Cathanger near Petworth, 1834 Graphite, on two sheets of paper pasted together Inscribed and dated by the artist at upper left corner in graphite, Petworth Sepr. 12 / 1834 Cat Hanger. Constable visited Petworth estate in Sussex for two weeks in the fall of 1834, filling a large sketchbook with about twenty drawings in pencil and watercolor of the surrounding countryside. This sheet is the earliest known dated drawing from his visit and one of the most highly finished. Cathanger was a farm on the River Rother, a tributary of the Arun. Constable's sensitive handling of the pencil describes the gently rolling terrain, while the white of the paper suggests patches of sunlight on the water in the center foreground.
William Hogarth (1697–1764) British Gin Street, ca. 1750 Red chalk, some graphite; incised with a stylus Inscribed variously as part of design, in graphite, along edge of distiller's roof at left, kilman distiller, above doorway at right, s gripe pawn broker; on scroll in lower left corner, The / Down / fall of Mdm Gin, and above arch in lower right corner, Drunk for a penny / Dead Drunk for two pence / Clean straw for nothing; inscribed in red chalk along lower margin at lower center, gin street. In this model for a print, published in London in 1751, Hogarth presented a veritable catalogue of the evils of drink. The drawing is set in a slum where the only successful businesses are the pawnbroker, distiller, and undertaker. In the same year that Hogarth published this drawing, the Gin Act was passed, reducing the number of gin shops and more than doubling the tax on the spirit.
Inigo Jones (1573–1652) British Design for the Scene of Whitehall with the Banqueting House for Time Vindicated to Himself and to His Honours, ca. 1622 Pen and brown ink, over traces of graphite and stylus; squared for transfer in graphite and brown ink Inscribed by the artist at upper left, in pen and brown ink, Whitehall Gate.; at upper center, Bancquet House. Jones was Britain's first classically inspired architect and also a talented designer of masques for the courts of James I and Charles I. This drawing exemplifies both talents. It is Jones's modello for a scene in Ben Jonson's masque. The performance took place in early 1623 in the Banqueting House itself, which had been constructed according to Jones's designs between 1619 and 1622.
Joseph Mallord William Turner (1775–1851) British The Pass of St. Gotthard, near Faido, 1843 Watercolor, point of brush, scratching out On commission from John Ruskin, his most ardent patron, Turner began this drawing with quick pencil sketches worked up into a "sample study." In executing the finished watercolor, he widened the view and vertically compressed the design, eliminating the sky and lowering the viewpoint so that one feels about to be swept into the foreground torrent. Traveling to Faido in 1845, Ruskin was surprised to discover that "the mountains, compared with Turner's colossal conception, look pigmy & poor."
Albrecht Dürer (1471–1528) German Kneeling Donor, 1506 Brush and black ink, gray wash, heightened with white gouache, with accents in pen and dark black ink, on blue paper Signed with monogram and dated, at lower left, in brown ink, 1506. During his stay in Venice in 1505–7, Dürer received the important commission for an altarpiece in the church of the German community, San Bartolomeo. The theme of the large panel celebrates the brotherhood of Christians in their devotion to the rosary. This drawing is a pose study for one of the principal donors of the painting, seen holding a rosary and kneeling in the right foreground. The pictorial effects of the delicately applied pen, wash, and gouache on middle-toned blue paper, known in Italian as carta azzurra, reveal Dürer's orientation to the native Venetian tradition.
Lucas Cranach the Elder (1472–1553) German Portrait of a Man in a Black Cap Oil on paper, possibly over black chalk; some retouching in cap and bust While working at the court of Frederick the Wise of Saxony in Wittenberg, Cranach specialized in portraiture. For this likeness, the artist used a technique uncommon in northern European drawing of the early 1500s: brush and oil paint on paper. The white highlights of the oil paint in the face contrast with the brown ground, making the sitter seem to emerge from the shadows and enhancing the illusion of his presence. His sharp, penetrating gaze enhances the effect.
Georges Seurat (1859–1891) French Nurse with a Child's Carriage, 1882/84 verso: Woman Standing, Arms Extended Conté crayon on Ingres paper The velvety surface, lustrous black, and rich palette of grays in this drawing are typical of Seurat's art. He achieved such effects with a Conté crayon—a medium greasier than pencil or charcoal and allowing for greater variations of value— applied on heavy-textured paper. Also characteristic of Seurat is the reduction of the scene to simple geometric patterns, a process of distillation for which his work is often considered a precursor to twentieth-century abstract art.
Henri Matisse (1869–1954) French Still Life with a Chocolatière, 1900 Brush and black ink Signed at lower right, in black ink, Henri-Matisse In this study for a painting, Matisse played with the stark contrast of black and white, varying the thickness of the black lines and modulating the size of the white areas to suggest a strong effect of light. The tightly interlocked arrangement of the dishes on the table reveals his interest in Cézanne's still lifes.
Luca Signorelli (1441/50–1523) Italian Four Demons Inspecting a Book, 1500–1503 Black chalk Signorelli's fresco cycle in the Cappella Nova of Orvieto Cathedral (1499–1503) dedicated to the Last Judgment established his reputation as one of the greatest Renaissance painters. This drawing most likely belongs to his studies for that cycle, although none of the figures corresponds exactly with those in the frescoes. Signorelli's array of muscular devils in the Cappella Nova was much admired by Michelangelo and inspired new possibilities for depicting the nude figure.
Sandro Botticelli (Alessandro di Mariano di Vanni Filipepi; 1444/45–1510) Italian Horses and Spectators (Fragment of an Adoration of the Kings), 1500–1505 Brush and brown ink or tempera, heightened with white, over traces of black chalk, on three pieces of prepared linen stitched together Together with two additional sections now in the Fitzwilliam Museum in Cambridge, England, these figures once formed part of a composition of the Adoration of the Magi. The monochrome technique and expressive figures reveal the influence of Leonardo's unfinished Florentine Adoration. The extensive modeling and high degree of finish suggest that Botticelli's original canvas was either intended as a monochromatic painting or, more likely, a late compositional study used as a guide for establishing light values.
Bartolomeo Montagna (ca. 1450–1523) Italian Nude Man Standing Beside a High Pedestal Point of brush and black ink, brown wash, heightened with off-white gouache, over traces of black chalk, on blue paper faded to brown Although Montagna was the leading painter in Renaissance Vicenza, only about thirty of his drawings are known. The Morgan possesses two fine examples. This study, a rare depiction of a secular nude, was probably inspired by classical statuary or literature, a subject that would have appealed to humanist circles. The detailed and careful execution reveals a northern Italian sense of realism and also suggests that the sheet was produced as an independent work of art.
Leonardo da Vinci (1452–1519) Italian Two Designs for Machines: Maritime Assault Mechanism and a Device for Bending Beams,1487–90 Pen and brown ink, over black chalk Inscribed by the artist in pen and brown ink, in mirror writing (right to left script), on recto above upper design, pie[na] di fieno bagniato; to left, Strume[n]to diurno / e da mare per i[s]calare / una to[r]re di sopra e se le / fu[s]sino due torri va per / tale linia che l'una fa– / cci scudo all'altra ma / fa che'l mare sia con tu– / tti i segni di tranquilita.
During the Renaissance many artists produced designs for weaponry and defenses, a subject evidently of particular interest to Leonardo, by whom nearly four hundred drawings survive. As is revealed in his characteristic reverse writing, the upper sketch describes a device to scale a tower during a naval siege, and the lower details a mechanism to bend wooden beams.
The designs were likely executed during Leonardo's sojourn at the Sforza court in Milan, around 1487–90.
Filippino Lippi (1457/58–1504) Italian Kneeling St. Mary Magdalene and Standing Christ, ca. 1480s verso: Standing Man Holding a Sword and Kneeling Youth Holding a Staff Leadpoint, heightened with white gouache, on light gray prepared paper; verso: leadpoint, heightened with white gouache, on light gray prepared paper; standing man heavily reworked in silverpoint, now golden brown Lippi executed four independent figure studies after young male models: the two on the recto approximate a Noli me tangere scene in which Christ appears to the Magdalen after his resurrection, forbidding her to touch him; the two on the verso appear to be spectators, perhaps in an Adoration of the Magi. This drawing, and a number of similar sheets of figure studies not directly connected to extant paintings, was likely part of a sketchbook produced by Lippi around 1482–83.
Albrecht Altdorfer (ca. 1480–1538) German Two Lovers by a Fountain in a Landscape Pen and black and white ink, on brown prepared paper; framing lines in black ink Signed with monogram on lining, in red chalk, AB 98, and inscribed in graphite, G. f.B.
In this independent finished drawing, Altdorfer placed a knight and lady and their tethered horse beneath a pollarded willow tree beside a little spring or fountain. That he was influenced by the expressive potential of the woodcut is apparent in the almost deliberate coarseness of the curved lines defining the willow tree and other elements of the highly stylized landscape, such as the jagged outlines of the mountainous background, modeled by upward pen strokes to suggest sheer vertical, if not naturalistic, effect.
Jean-Auguste-Dominique Ingres (1780–1867) French Portrait of Guillaume Guillon Lethière (1760–1832), 1815 Pencil on wove paper Inscribed by the artist at lower right, in pencil, M. de Ingres/a Madlle Lescot, and signed and dated (and erased but still legible) beneath dedication, Ingres rome 1815.
Ingres portrayed his mentor Guillaume Guillon Lethière first in 1811 and again in 1815 in this superb frontal portrait made for Lethière's friend Hortense Lescot. Alexandre Dumas wrote of the subject: "Monsieur Lethière était à la fois un beau talent, un bon Coeur et un charmant esprit." In this dashing portrait, every nuance of detail is crisply delineated in a range of tonal effects resulting from Ingres's skillful alternation of soft and hard pencils.
Honoré Daumier (1808–1879) French Two Lawyers Conversing Black chalk and gouache in white and gray, with some pale pink, yellow, and brown watercolor Signed at lower right, in pen and black ink, h. Daumier.
Pairs or groups of lawyers are the subject of many of Daumier's drawings. Frequently the figures are contrasting visual types, as in the present example. Here, a thickset man leans over to compare anecdotes or discuss strategy with a thin colleague. The artist was at the peak of his artistic power in the 1860s, the period to which this drawing undoubtedly dates.
Andrea del Sarto (Andrea d'Agnolo; 1486–1530) Italian Young Man Taking a Step, with a Basket, and Balancing a Sack, 1511–24 Black chalk Andrea del Sarto excelled in representations of the human figure, preparing each pose from the live model with a sensitive understanding of anatomy. The present boldly delineated study is preparatory for the figure of a manservant ascending a flight of stairs in the monochrome fresco of the Visitation in the cloister of the convent of the Compagnia dello Scalzo, Florence. Andrea intermittently worked on the cycle of twelve murals, his first major commission, from about 1507 to 1526.
Correggio (Antonio Allegri; ca. 1489–1534) Italian Head of a Woman Crying Out, ca. 1511–14 Charcoal and black chalk, in some passages blended with white chalk, on two pieces of light brown paper joined vertically at left Remarkable for its intensity of emotion and rich sfumato-like modeling in heavy charcoal, this drawing is a cartoon for the head of the grief-stricken Mary Magdalene in the Entombment of Christ, a frescoed roundel from the portico of the basilica of Sant'Andrea in Mantua, now in the Museo Diocesano. It reveals Correggio's early understanding of the importance of carefully planning a composition executed in the unforgiving fresco technique.
Jacopo Tintoretto (1518–1594) Italian Two Studies of Samson Slaying the Philistines Black chalk, heightened with wetted white chalk, on blue paper (faded) The present sheet is among the more than thirty studies Tintoretto and his workshop produced after a wax or clay replica of Michelangelo's 1528 sculptural model for Samson Slaying the Philistines. The spiraling and radically foreshortened figure of Samson wielding the jawbone of an ass atop one of his victims must have held a particular fascination for the artist, who rose to the challenge of producing a two-dimensional image of the sculpture with admirable skill.
Giovanni Battista Tiepolo (1696–1770) Italian Virgin and Child Seated on a Globe, 1740s Pen and brown ink, with brown, ochre, and violet wash, over black chalk This design was probably intended for metalwork, such as a finial or the ornament surmounting a processional mace. It depicts the Virgin of Mount Carmel and Child as experienced in the vision of Saint Simon Stock, a twelfth-century Carmelite friar: the Virgin presented him with a scapular—an article of devotion composed of two small woolen squares— held aloft by the angel at right. The drawing may have been made for the Scuola Grande dei Carmini, Venice, in the 1740s.
Canaletto (Giovanni Antonio Canal; 1697–1768) Italian Architectural Capriccio Pen and brown ink, with gray wash, over graphite and traces of black chalk Canaletto, who primarily worked for an affluent English clientele visiting Venice while on the Grand Tour, brought topographical painting to perfection. He also produced such fanciful views, or "capricci," as this one, which combine reality with imaginary elements. It is a fairly accurate rendering of the eastern end of San Lorenzo and the adjacent houses in the Castello neighborhood, though most other elements are purely fictional for this location. Picturesque details of everyday life evoke a uniquely Venetian atmosphere.
Peter Paul Rubens (1577–1640) Flemish Seated Male Youth (Study for Daniel), ca. 1613 Black chalk, heightened with white chalk, on light gray paper This sheet is preparatory for the figure of Daniel in Rubens's painting Daniel in the Lions' Den. After establishing the position of the figures in compositional drawings and oil sketches, Rubens would make studies after the model for major figures to guide studio assistants in the execution of a painting. Here he outlined the figure in black chalk and blocked out shadows to indicate volume and light. The painting's fidelity to this study indicates that it belongs to the final stages of preparation.
Peter Paul Rubens (1577–1640) Flemish Descent from the Cross, ca. 1617–18 verso: St. Andrew, ca. 1618–19 Pen and brown ink, brown wash, occasional point of brush, on light brown paper; verso: pen and brown ink, brown wash, occasional point of brush, slight indication of a head in black chalk This rapidly drawn sheet demonstrates the inventiveness and importance of preparatory drawings in Rubens's creative process. It represents his initial ideas for a composition which was realized in two painted versions of the subject commissioned by the Order of the Capuchins in 1617 and circa 1618–19, although neither painting replicates the composition exactly. The study of St. Andrew on the verso is preparatory for an altarpiece of the Miraculous Draught of Fishes for the Fishmonger's Guild in Mechelen at Notre-Dame-au-delà-de-la-Dyle.
Anthony van Dyck (1599–1641) Flemish Diana and Endymion Pen and point of brush and brown ink, brown wash, heightened with white gouache, on blue paper, faded to green gray Like his mentor, Peter Paul Rubens, van Dyck was a prolific and energetic draftsman who executed pen-and-ink sketches to explore ideas for compositions. The restless experimentation and disregard for detail and proportion evident in this sheet reflect van Dyck's preoccupation with the dramatic action of the scene.
Anthony van Dyck (1599–1641) Flemish View of Rye from the Northeast, 27 August 1633 Pen and brown ink Signed, dated, and inscribed by the artist, at lower right, in brown ink, Rie del naturale li 27 d' Augto 1633–Aovand[yck]; inscribed above in Jan van Rymsdyk's hand, in brown ink, Rymsdyk's Museum.
Although one of the most celebrated portraitists in Northern art, van Dyck is less well known for his plein-air studies, which are some of the earliest known topographical views of architecture in Britain. In this view of Rye, a town on the Sussex coast, several important historic buildings can be identified, including the Romanesque church of St. Mary at the town's highest point and Ypres Tower, the remains of Rye castle, at the far left.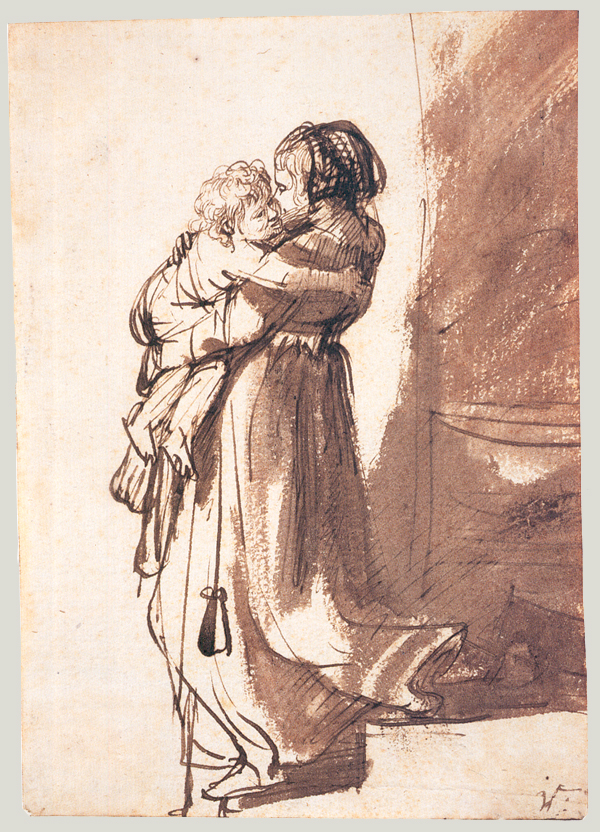 Rembrandt Harmensz. van Rijn (1606–1669) Dutch Woman with a Child Descending a Staircase, ca. 1635–36 Pen and brown ink, brown wash; traces of framing line in brown ink Inscribed at lower right corner, in an old hand, in brown ink, W or R.
In this remarkably intimate study, Rembrandt masterfully employed his brush to evoke the darkness of the staircase and create a sense of movement in the dramatic shadows that envelop the woman. With a thick reed pen and brown ink, he described her cap, using careful strokes to define the faces of woman and child, and bold strokes to describe the child's body and woman's skirt.
Adriaen van Ostade (1610–1685) Dutch A Violinist at a Farmhouse Door, 1673 Watercolor, pen and brown ink, with touches of gouache, over traces of graphite; framing line in brown ink Signed and dated at lower left, in brown ink, Av.(in ligature) Ostade · 1673. This colorful genre scene represents the apogee of Ostade's watercolor manner and depicts one of his many variations on the theme of rustic pleasures. Ostade's watercolors were created predominantly as independent works of art to be marketed to collectors, although the present sheet also served as the basis for a painting. This robust, highly finished sheet was a favorite of Charles Fairfax Murray, whose collection forms the core of the Morgan's holdings.
Nicolas Poussin (1594–1665) French The Death of Hippolytus Pen and brown ink, brown wash, over black chalk; verso: pen and brown ink over black chalk An independent exploration of a theme that Poussin did not treat in a painting, the subject of this highly baroque sheet derives from Ovid's Metamorphoses. Cast out of Athens by his father after rejecting the advances of his stepmother, Hippolytus's chariot is menaced by a bull sent by Poseidon. After his chariot crashes and Hippolytus is dragged to his death, his friends attempt to regain control of the horses and disentangle the hero's body from the wreckage.
Jean-Antoine Watteau (1684–1721) French Seated Young Woman, ca. 1715–1717 Black, red, and white chalk on buff paper Watteau is best known for his rapidly executed figure studies in trois crayons, using red, black, and white chalks. This sheet is an exceptional example of his mastery of the technique and embodies such immediacy and energy that one does not notice at first that the artist did not include the lower half of the woman's right leg and foot and failed to indicate the base on which she is seated. Trimmed from a larger sheet, the original may have included multiple studies.
Hilaire-Germain-Edgar Degas (1834–1917) French Standing Man in a Bowler Hat, Slight Sketch of a Woman at Left Essence (thinned oil paint) on oiled brown paper Stamped in red ink at lower left corner, Degas. This boldly painted sketch dates to the late 1860s or early 1870s. Degas first used strokes of black to delineate the figure and then modified the pose with a thin gray oil paint, notably redefining the contours to depict the man at a slightly less frontal angle. While he sometimes made these oil studies in preparation for a painting, and an inscription on the back of the frame associates it with his 1868–70 painting Interior (The Rape), this work has not been definitively linked to a specific canvas.
Hilaire-Germain-Edgar Degas (1834–1917) French Mlle Bécat at the Café des Ambassadeurs, 1885 Pastel over lithograph Signed and dated at lower right, in pastel, Degas / 85. This dramatically composed scene captures the spectacle and excitement of the café-concert in fin-de-siècle Paris. Degas, who was a frequent visitor to this popular form of entertainment, used it as an inspiration for many compositions, including the 1877/78 lithograph that was reworked in pastel for the present composition. The three silhouetted female spectators in the immediate foreground contrast with the spotlighted singer, who is performing her frenzied, comic dance, with arms raised and fingers splayed, in her trademark style épileptique.
Paul Cézanne (1839–1906) French Still Life with Pears and Apples, Covered Blue Jar, and a Bottle of Wine. Watercolor over black chalk Cézanne began this monumental study with a light and free sketch in black chalk and then used transparent strokes of watercolor in rich hues to define the contours. The broken lines and shimmering planes of color lend the sheet a surface dynamism that is enriched by the bold use of the reserve of paper. Reflecting the artist's mastery of the watercolor, this still life was executed sometime during the last few years of his life.
Paul Gauguin (1848–1903) French Te arii vahine (The Queen of Beauty or The Noble Queen), 1896–97 Watercolor, with gouache, over black crayon Initialed by the artist at lower left, in black crayon, pg; inscribed at lower center, in black crayon, te arii vahine. This watercolor was executed by Gauguin after his 1896 canvas Te arii vahine, one of his first works after returning permanently to Tahiti. He characterized the painting as "much better than anything I've done previously." The colors used in this replica are different from those in the painting; they establish the watercolor as an independent drawing in which the artist continued to explore color harmonies.
Vincent van Gogh (1853–1890) Dutch Two Cottages at Saintes-Maries-de-la-Mer, 1888 Reed pen and brown ink, over graphite In early summer 1888 van Gogh visited the Mediterranean fishing village of Saintes-Maries-de-la-Mer, where, as he wrote to his brother, he hoped to " . . . get [his] drawings more spontaneous, more exaggerated." The spontaneity he hoped to achieve is expressed in a vigorous, freely drawn graphite sketch that the artist then articulated with alternating thick and fine strokes of a broad-nibbed reed pen. The drawing's brisk, energetic execution indicates that it might have been made on site.