An unprecedented display of paintings and photographs by the acclaimed American artist
Thomas Eakins
(1844-1916) was on view at The Metropolitan Museum of Art June 18-September 15, 2002. The final stop in a three-city tour of a landmark traveling exhibition,
Thomas Eakins
at the Metropolitan was the first major showing of the artist's work in New York City since 1970.
More than 150 works drawn from institutions nationwide represented every major theme explored by Eakins, including his iconic depictions of rowers, surgeons, musicians, artists, collectors, and teachers. Some 60 photographs by the artist and his circle—along with newly discovered information about the role of photography in his work— enhanced public understanding of Eakins's remarkable achievements.
Traveling only to the Metropolitan was his powerful 1884-85 painting of male nudes,
Swimming,
on loan from the Amon Carter Museum, Fort Worth.
The exhibition was organized by the Philadelphia Museum of Art with funding from The Henry Luce Foundation, Inc.
Today considered a leading repository of works by Eakins, the Metropolitan Museum established a relationship with the artist during his lifetime. Indeed, the Metropolitan's first acquisition of a painting by Eakins was presented by the artist himself in 1881. Through subsequent purchases and gifts, the collection has grown to include some of Eakins's most significant paintings, works on paper, and photographs.
The son of a Philadelphia writing master and teacher of calligraphy, Thomas Eakins displayed artistic talent—most notably in mechanical drawing—even as a youth. Encouraged by his father to pursue a career as an artist, Eakins enrolled in classes at the Pennsylvania Academy of the Fine Arts and attended anatomy lectures and demonstrations at Philadelphia's Jefferson Medical College.
In 1866, he became one of the first American artists to seek serious professional training in France—a practice that would later become commonplace—to continue his studies in the atelier of the noted historical and genre painter Jean-Léon Gérôme. Eakins also received instruction in sculpture and portraiture. Having completed his studies, and in ill health, he escaped the damp climate of Paris in the winter of 1869-70 to spend several months in Madrid and Seville, where he immersed himself in Spanish art before returning home.
Unlike many of his compatriots, who would seek their artistic inspiration in foreign lands, Eakins chose to document and memorialize the familiar. Settling in his parents' house in Philadelphia in 1870, he painted outdoor sporting scenes that included his male friends and meditative indoor scenes that featured his female relatives. Even when an image appears to be merely a genre scene, it is rooted in Eakins's commitment to the specificity of portraiture, which would become his principal concern after 1886.
Today Eakins is closely identified with his depictions of rowers on Philadelphia's Schuylkill River, such as the great oil painting of 1871,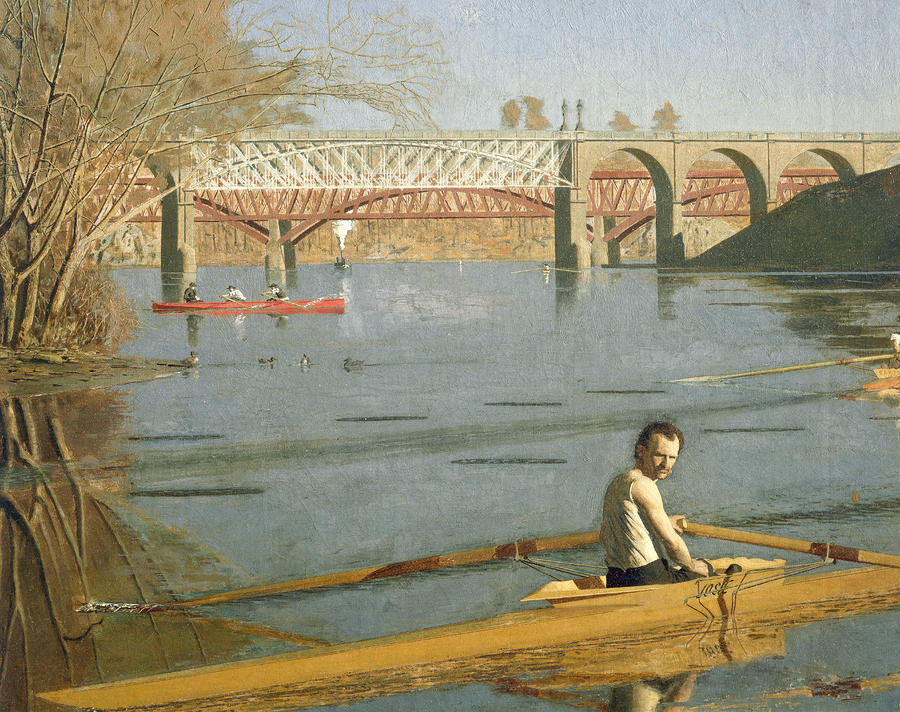 The Champion Single Sculls (Max Schmitt in a Single Scull),
and the meticulous watercolor of 1873-74,
John Biglin in a Single Scull
(both from the Metropolitan Museum).
But he also painted men hunting for waterfowl and fishing—such as
Starting Out After Rail (1874, Museum of Fine Arts, Boston)
and Shad Fishing at Gloucester on the Delaware River (1881, Philadelphia Museum of Art)
And another by the same title, not in the exhibition:
Eakins also painted sports including
baseball,
boxing,
and wrestling.
The women Eakins painted were members of his family, friends, or pupils, and they were often shown in domestic settings. Two of his students served as models for
The Pathetic Song (1881, Corcoran Gallery of Art),
which portrays a parlor concert and captures the moment at the end of a song.
And family friend Weda Cook posed for one of his most ambitious and moving musical paintings,
The Concert Singer (1891, Philadelphia Museum of Art).
The artist's investigative approach required that Cook begin each of the more than 80 sittings by singing the same melody so that he could study the action of her vocal chords.
Eakins excelled at portraiture, but his insistence on repeated sittings—he orchestrated and scrupulously recorded every detail of pose, costume, and setting—was a process his subjects found tedious, despite the fact that the results were masterful and captured the sitter's essence. Potential patrons feared that Eakins's probing approach would ruthlessly reveal, rather than flatter; and even friends who agreed to pose as a favor to Eakins often declined to accept their portraits as gifts.
Eakins is also identified with medical portraits such as
The Gross Clinic (1875, Jefferson Medical College of Thomas Jefferson University, Philadelphia, Pennsylvania)
which shows the pioneering surgeon Dr. Samuel David Gross performing and commenting on surgery on a living patient. The public acclaim that Eakins hoped for when he completed his masterpiece did not materialize, although the work is now considered by many art historians to be the greatest American painting ever created.
From 1876 to 1886, Eakins was an instructor and then director of the school at the Pennsylvania Academy. His salary and a small income provided by his father allowed him to carry on his career with but few portrait commissions.
"The Agnew Clinic," oil on canvas, 84 3/8 by 118 1/8 inches, 1889, University of Pennsylvania, Philadelphia
Beginning in the summer of 1880, Eakins turned his attention to photography. He saw photography as a modern medium that—in addition to anatomy and mechanical drawing—should be put to the service of painting. Likewise, he was deeply interested in its inherent artistic possibilities and poetics. He quickly mastered the new medium and—urging his students to learn it also—introduced the camera to the American art studio.
The subject matter in Eakins's photographs—primarily the human figure (both clothed and nude) and portraits of his family and friends, his students, and himself—echoes that of his paintings, making him the first American artist to integrate these two disparate media. In some instances, Eakins used photographic images diagnostically: by studying them, he hoped better to understand the human figure, details of human physiognomy, and gestures. But groundbreaking scholarship in the field of painting conservation has revealed how Eakins (using lantern slide projectors) employed photographic images to mark his canvases and create such complex multi-figure paintings as
Mending the Net (1881, Philadelphia Museum of Art).
The challenges posed by the new technology and Eakins's solutions to them suggest that he also viewed photographs as discrete works of art. He was the only American painter in his day to make his own photographic enlargements on platinum papers—a notable achievement for an amateur. Influenced by the noted photographer Eadweard Muybridge (1830-1904), Eakins also designed and constructed a special camera that made multiple exposures on a single plate, capturing the nuances of human musculature in motion.
Due in large part to Eakins's influence on the school's curriculum—and his insistence that both male and female students study anatomy and conduct dissections—the Pennsylvania Academy became the most liberal and advanced art school in the United States in the early 1880s. His belief that artists needed to investigate the nude human figure challenged Philadelphia decorum and exacerbated his difficulties with the school's administration, however, and forced his resignation in 1886. Thereafter, Eakins held teaching posts—lecturing on anatomy—in various schools in Philadelphia and New York.
A platinum print of Eakins's classroom at the Art Students' League (ca.1889, The Metropolitan Museum of Art) shows Eakins's unique talent for integrating photography and art instruction. In this rare glimpse of a life drawing class in session, the nude model—a female, whom we see from behind—reclines on a blanket. A male art student, sketchbook in hand, can be discerned in the shadows, drawing the same lithe figure Eakins records with his camera.
Eakins's late portraits, such as
The Thinker: Portrait of Louis N. Kenton (1900, The Metropolitan Museum of Art),
capture the introspection of his subjects at the same time they reflect his own melancholy. Simple and vigorous, The Thinker is a probing, intensely realized image of an individual as well as an archetypal portrayal of modern man in the first year of the new century, a fact that is prominently proclaimed at the corner of the canvas.

Excellent Review, more images

A catalogue published by the Philadelphia Museum of Art and Yale University Press accompanied the exhibition.