Orange Hat, from the portfolio Alex and Ada: 1960s to 1980s, 1990, Alex Katz (American, born in 1927) Screenprint. Graphische Sammlung Albertina, Vienna. Photograph © Albertina, Vienna; Peter Ertl. Art © 2011 Alex Katz/Licensed by VAGA, New York, NY. Courtesy, Museum of Fine Arts, Boston


The Green Cap, 1985, Alex Katz (American, born in 1927) Woodcut. Promised gift of Alex Katz © 2012 Alex Katz/Licensed by VAGA, New York, NY. Photograph © Museum of Fine Arts, Boston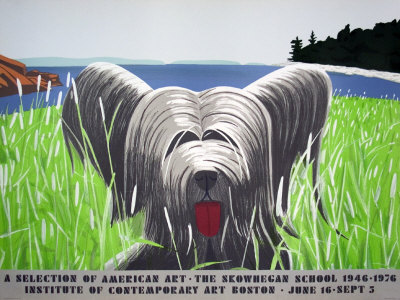 Dog at Duck Trap, 1975–76, Alex Katz (American, born in 1927). Lithograph. Graphische Sammlung Albertina, Vienna. Photograph © Albertina, Vienna; Peter Ertl. Art © 2011 Alex Katz/Licensed by VAGA, New York, NY. Courtesy, Museum of Fine Arts, Boston
Alex Katz's bold portraits and lyrical landscapes are among the most recognizable images of contemporary art. Quintessentially American and characterized by cool detachment, his works spark a dialogue between abstraction and representation.
Alex Katz, Self-Portrait (Passing), from the portfolio Alex and Ada: 1960's to 1980's, 1990, Screenprint, Graphische Sammlung Albertina, Vienna, Photograph © Albertina, Vienna; Peter Ertl. Art © 2011 Alex Katz/Licensed by VAGA, New York, NY. Courtesy, Museum of Fine Arts, Boston.
In celebration of the 60-year career of Katz (born 1927), and the promised gift of an archive of the artist's prints from the 1960s to today, the Museum of Fine Arts, Boston (MFA), presents Alex Katz Prints, on view through July 29 in the Ann and Graham Gund Gallery. This retrospective—conceived and drawn from the collection of the Albertina Graphic Collection in Vienna, which received the gift of a major Katz print archive—will showcase approximately 125 works. Included among them will be portraits of Ada, Katz's wife and longtime muse, family members, and figures from the worlds of art and culture; landscapes of Maine; portfolios; and illustrated books of poetry. In Boston, additional works from the MFA's collection and promised archive will be included, and a special highlight will be Rush (1971), a series of 37 paintings given by Katz to the MFA in 2011, which will make its Boston debut during the exhibition.
"New York artist Alex Katz, who has spent his summers in New England since the 1950s, has a longstanding relationship with the MFA," said Malcolm Rogers, Ann and Graham Gund Director of the Museum. "Over many years, he has been exceptionally generous, helping us to build our contemporary collections in exciting and meaningful ways. We are delighted to celebrate his long and distinguished career as a printmaker, as well as his promised gift to the Museum of an archive of his prints with this beautiful exhibition."
The Boston showing of Alex Katz Prints is curated by Clifford Ackley, Chair, Department of Prints, Drawings, and Photographs, and Ruth and Carl J. Shapiro Curator of Prints and Drawings at the MFA, together with Edward Saywell, Chair, Linde Family Wing and Arthur K. Solomon Curator of Modern Art at the MFA. The exhibition showcases Katz's distinctive style as a printmaker through which he distills his subjects down to their essence with an arresting simplicity of line, color, and form. His works are notable for their radical cropping, dramatic close-ups and expressive color, from vibrant hues to subtle greys and bold blacks. The images are crisp and clean, devoid of non-essentials. Katz's portraits are iconic and intentionally avoid anecdote and psychological interpretation. Drawing on the language of billboards and films, his works bridge the worlds of art, advertising, and fashion.
The exhibition will begin with a "family room" featuring prints of the artist, his wife Ada, poet and art critic son Vincent, and daughter-in-law Vivien. The centerpiece will be the dramatically cropped image Orange Hat (1990). For more than five decades, Katz's wife has been his muse, her elegant visage captured in a variety of poses. Throughout the exhibition, in works such as Blue Umbrella (1979-80), Ada assumes many different guises and costumes, evoking the ever-changing fashions and styles of recent decades. An adjoining space will feature portfolio images of Alex and Ada, including Self-Portrait (Passing) (1990) and the life-size, free-standing silkscreened aluminum cutout Ada (1999). Elsewhere in the exhibition, additional images of Ada will be showcased, including Brisk Day (1990), three identical, sequential portraits of her in a red coat printed in woodblock, aquatint, and silkscreen.
"Alex Katz's prints are brilliant interpretations of his paintings," said Clifford Ackley, co-curator of the exhibition. "When distilling the paintings to their very essence, fine tuning of luminous color and precision of tone become vital to these concentrated images that pack a terrific graphic punch."
A focal point of the exhibition will be Rush (1971), on view in a separate space dedicated to the portrait series. Given to the MFA in 2011, it comprises 37 painted aluminum silhouetted heads, which will be hung side-by-side at eye level like a continuous frieze, suggesting a roomful of people gathered at a cocktail party. Among them are key cultural figures of the 1960s and '70s, including artists Rudy Burckhardt, Al Held, Brice Marden, and Yvonne Jacquette; writers Ted Berrigan, Thomas Disch, and Larry Fagin; critics Edmund Leites, Robert Rosenblum, and Irving Sandler; and, from the world of dance, Edwin Denby and William Dunas.
"Rush is a remarkable work of art and we are thrilled that it will have its MFA debut within the context of this exhibition," said Edward Saywell, co-curator of the exhibition. "To be faced—literally—in the round by some of the great cultural figures of the 1970s is a startling experience."
Throughout the Gund Gallery, visitors will discover a wide range of prints by Katz that capture various facets of everyday life in both city and country. A hallmark of Katz's work is its evocation of the New York cultural scene with the artist drawing heavily on the worlds of art, dance, and poetry. Of special note is the series Pas de deux (1994), prints of five couples in high-fashion dress, including artists David Salle, Red Grooms, and Francesco Clemente; Face of the Poet (1978), a portfolio of 14 aquatints from shaped plates consisting of portraits and poems by leading poets, such as Ann Lauterbach and Ted Berrigan; and Night: William Dunas Dance 1-4 (1983), a sequence of four lithographs that draws upon Katz's interest in the world of dance. Even animals will be part of the mix, as seen in the whimsical life-size cutout Cow (2006), or in Dog at Duck Trap (1975–76), an image of the Katzes' shaggy-haired Skye Terrier, Sunny, looking out at visitors from a Maine landscape.
Among the highlights of Alex Katz Prints are the artist's evocative landscapes that capture the quiet majesty of Maine, where the Katzes have summered for decades in Lincolnville. The woods, beaches, and ponds of Maine have provided rich subject matter for Katz since he first visited the state in 1949. Many of the works show his keen interest in the effect of changing light and shadow on a particular setting, such as the early Luna Park (1965) and Twilight I, II, and III (1978). In addition, Katz's large painting Poplars (2003), a 2009 gift to the MFA from the Alex Katz Foundation, will be on view as one leaves the Gund Gallery.
Alex Katz Prints, a 240-page catalogue with more than 200 color illustrations accompanies the exhibition. Produced by Hatje Cantz Albertina, it features four essays on Alex Katz's work in prints. The catalogue, available in hardcover for $60, and other books featuring Katz are available in the MFA Bookstore and Shop, or on line at www.mfa.org/publications.