This spring, the verve, grace, and exuberance of 18th-century French drawings will be on display at the Cincinnati Art Museum. The Art Museum will show drawings by the talented group of artists responsible for an unprecedented level of artistic and cultural production in the France of Louis XV in an exhibition titled
Genius and Grace: Francois Boucher and the Generation of 1700,
on view February 14-May 11, 2014.
Francois Boucher, Charles-Joseph Natoire, Carle Vanloo and their contemporaries, born in or around 1700, executed virtuoso compositions whose refined elegance epitomizes the French grand manner. Along with Boucher, Natoire, and Vanloo, the exhibition will also celebrate lesser known but equally talented figures such as Louis-Gabriel Blanchet and Joseph Francois Parrocel, as well as several pastels, including a rare example by Jean-Baptiste-Siméon Chardin. More than seventy master drawings, many of which have never before exhibited or published, will be on view.
This exhibition is organized by the Horvitz Collection in Boston—the preeminent private collection of early French art in the United States. Twenty-nine of the most distinguished artists of this period will be featured, along with a fully illustrated catalogue edited by Alvin L. Clark, Curator of the Horvitz Collection and the J.E.Horvitz Research Curator, Department of Drawings, Harvard Art Museums/Fogg Museum.
The Cincinnati Art Museum venue for
Genius and Grace: François Boucher and the Generation of 1700
is organized by Dr. Esther Bell, Curator of European Paintings, Drawings, and Sculpture; it is the first old master drawings exhibition to take place at the Cincinnati Art Museum in more than thirty years. "These are some of the most beautiful and sexiest images the Old Masters ever produced," commented Cincinnati Art Museum Director Aaron Betsky; "They are stunning in their display of talent and the sensuality they convey."
Sixteen of the works on view were created by Francois Boucher, who an eighteenth-century critic called "the painter of voluptuousness and grace." One of the artist's drawings, Recumbent Nude,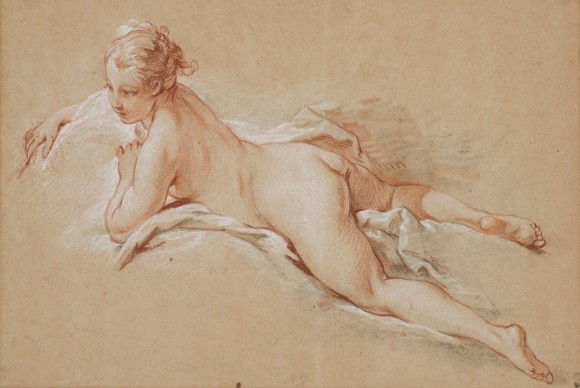 François Boucher (1703–1770), Recumbent Female Nude, circa 1742–43. Red, white, and black chalk on cream antique laid paper. The Horvitz Collection, Boston.
depicts a luscious female figure. This may, at first, seem to be a provocative and erotically charged image, but it may have simply developed from a figure study intended to be used when painting a sea nymph or other historical subject.
Also part of the exhibition is
Carle Vanloo's Saint Augustine Disputing with the Donatists,
which has never before been exhibited. This masterpiece is remarkable for its heavy contours and energetic forms encased within a scene of monumental Italian architecture.
According to Cincinnati Art Museum Curator Dr. Esther Bell, "A selection of master drawings was selected that best tell the story of the unfolding eighteenth century. Not only will visitors be able to enjoy the sumptuous forms of the high Rococo, but also the virtuoso drawings that resulted from rigorous academic training and the cool and classicizing manifestations of these artists' Italian journeys." Dr. Bell is a specialist of eighteenth-century French art.
Francois Boucher, "Venus Presenting Aeneas to Jupiter and Juno," 1747, black chalk, pen with brown ink, and brush with brown wash and touches of white gouache on tan antique laid paper. The Horvitz Collection, Boston
Francois Boucher, "Crowned Rocaille Escutcheon With Putti and the Order of the Golden Fleece," 1745, black chalk heightened with white chalk on tan antique laid paper, pricked for transfer. The Horvitz Collection, Boston
Francois Boucher, "Adoration of the Shepherds," pen with brown ink and brush with brown wash and touches of blue watercolor over red chalk on cream antique laid paper prepared with a red chalk wash. The Horvitz Collection, Boston
Charles-Antoine Coypel, "Head of Potiphar's Wife," ca. 1737, black chalk and pastel on discolored blue antique laid paper. The Horvitz Collection, Boston