Becoming Van Gogh
, an in-depth exploration of Vincent van Gogh's unconventional path to becoming one of the world's most recognizable artists, was presented at the Denver Art Museum (DAM) from October 21, 2012 through January 20, 2013.

Vincent van Gogh, Vue de l Asile et de la Chapelle de Saint-Remy
The exhibition examined critical steps in the largely self-taught artist's evolution through more than 70 paintings and drawings by Van Gogh, along with works by artists to whom he responded. Organized by the DAM and curated by Timothy J. Standring, Gates Foundation Curator of Painting and Sculpture at the DAM, and Louis van Tilborgh, Senior Researcher of Paintings at Amsterdam's Van Gogh Museum, Becoming Van Gogh brings together loans from more than 60 public and private collections throughout Europe and North America to tell the story of a number of key formative periods throughout the artist's career.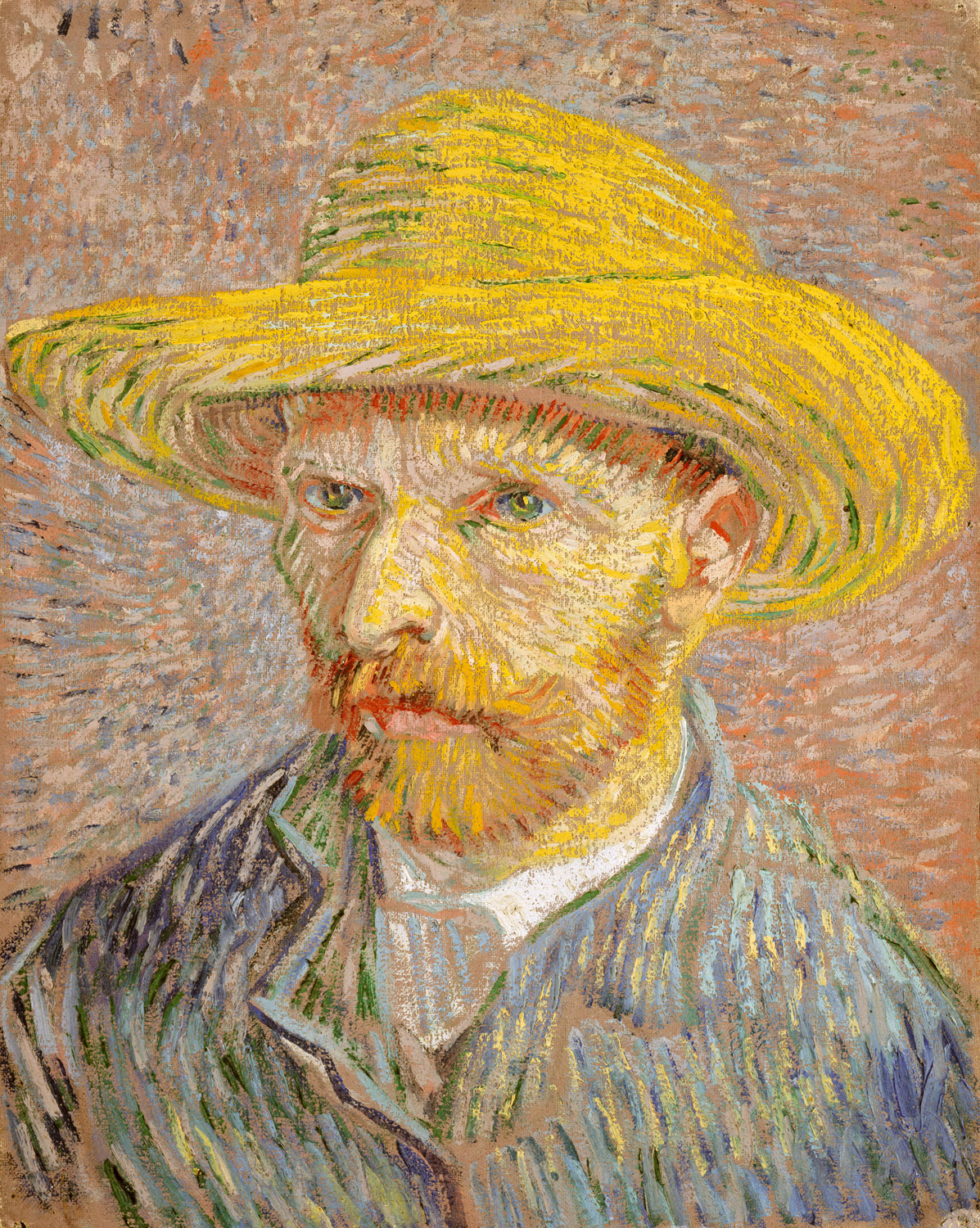 Vincent van Gogh, Self-Portrait with Straw Hat, Summer 1887. Oil on canvas. The Van Gogh Museum Amsterdam (Vincent van Gogh Foundation).

By focusing on the various stages of Van Gogh's artistic development, Becoming Van Gogh illustrates the artist's initial foray into mastering draftsmanship, understanding the limitations and challenges of materials and techniques, learning to incorporate color theory and folding a myriad of influences, including the work of other artists, into his artistic vocabulary. No other exhibition has focused so intensely on Van Gogh's personal growth and progression as he developed his own personal style.
Vincent van Gogh, "Canal with Women Washing"
Becoming Van Gogh took visitors on a journey through the artist's stylistic development via his dramatic paintings and drawings. Divided into three main sections, the exhibition began with a focus on how Van Gogh imbued his early works with energy and verve as he strove to master drawing with graphite, ink and washes; how he began to understand color with watercolor paintings; and how he began to test his skill with oils on canvas. Van Gogh turned all of his creative energies towards mastering the tools that would enable him to render the visual world as he saw it by learning as much as he could about the formal elements of art, color theory, painting techniques, compositional methods and more.

Vincent van Gogh, A Pair of Boots, 1887. Oil on canvas; 12-7/8 x 16-1/4 in. The Baltimore Museum of Art: The Cone Collection, formed by Dr. Claribel Cone and Miss Etta Cone of Baltimore, Maryland. Photography by: Mitro Hood.
By the time he arrived in Paris—which constituted the largest section of the exhibition—visitors will see Van Gogh's further maturation as an artist. His Parisian period, from 1886 to 1888, represents a crucial phase of his professional career, when his focus shifted from social subject matter to works driven largely by aesthetic and artistic concerns. This, the heart of the exhibition, is the period when he strove to attain a considerable degree of artistic self-confidence by responding to the stylistic and ideological shifts underway in the Parisian art world at the time.
Vincent van Gogh, Grass and Butterflies, 1887
During this eventful two-year period, Impressionism hosted its eighth (and last) official group exhibition, Seurat startled the world at the Salon des Indépendants with his divisionism in Un Dimanche après-midi à l'Île de la Grande Jatte, Signac and Pissarro followed his example with a softened variant known as pointillism, Bernard launched a salvo of synthetism and Toulouse-Lautrec recorded the bohemian culture of Montmartre.
Vincent van Gogh, Wheatfield with Sheaves, 1888. Oil on canvas. Honolulu Academy of Arts, gift of Mrs. Richard A. Cooke and Family in memory of Richard A. Cooke.
Acutely aware of these avant-garde trends and working closely with artists such as Émile Bernard and Paul Signac, Van Gogh both experimented with and eventually transformed these styles into something wholly personal and unique. During this time Van Gogh personally met and interacted with many of these artists, all of whom are represented by significant works in the exhibition.
From a
nice background article
about the show: (images added)
It took three visits to the Staatliche Museen in Berlin to secure a loan of



"Road Workers," a drawing van Gogh completed in 1882, (also known as Torn-Up Street with Diggers)

and three more to Oslo to obtain



the 1888 drawing "View of Arles from Montmajour" (also known as View of Arles from a Hill)

from Norway's museum of art.

The Art Institute of Chicago turned down seven loan requests before agreeing to send the 1887 oil painting



"Grapes, Lemons, Pears, and Apples."
From
an excellent review of the show (including images)
:



Vincent van Gogh, Head of Gordina de Groot, 1885. Oil on canvas; 16-1/8 x 13-3/4 inches (41 x 34.5 cm). Private collection, image courtesy of Eykyn Maclean

The show begins with a side of Van Gogh that may seem foreign to most of us. For one thing, the vibrant colors most commonly associated with the artist are largely absent from the works. Instead, the viewer is greeted with muted tones of blue, gray and black. Sketching images of peasant workers and ordinary objects such as tattered shoes, the pieces provide a seemingly rustic air.




Vincent van Gogh, Autumn Landscape, 1885. Oil on canvas laid down on panel; 25-1/4 x 34-1/4 inches (64 x 87 cm). © Fitzwilliam Museum, Cambridge

Moving into the next space, the works maintain the same muted palette that characterizes the artist's earliest pieces. However, it is here that Van Gogh begins to experiment with color. Abandoning drawing for painting, the artist focuses his effort on mastering color and color theory. This is particularly evident in his piece "Autumn Landscape." In this work, the color of the sky is made all the more intense when contrasted with the yellow leaves of the trees (this is of particular consideration given the fact that Van Gogh learned that the impression a color makes is determined not only by the color itself but also by the colors around it.)




Vincent van Gogh, Vase with gladioli and China asters, 1886. Oil on canvas; 18-1/2 x 15-1/3 inches (47 x 39 cm). Van Gogh Museum Amsterdam (Vincent van Gogh Foundation)

However, it isn't until his Parisian period (1886-1888) that the Van Gogh we are most accustomed to begins to take shape. Vibrant hues of red, yellow, green and blue (among other bold colors) occupy the majority of the works. Focusing on still life (i.e. vases of flowers, fruit,) Van Gogh starts to experiment with thicker paints and quick, short brushstrokes, creating texture that virtually pops off of the canvas.