Venues
Milwaukee Art Museum - October 11, 2013–January 5, 2014
San Antonio Museum of Art - February 8, 2014–May 11, 2014
Thomas Sully (1783–1872) was one of nineteenth-century America's most prolific artists, painting over twenty-three hundred works during a career that spanned seventy years. In his portraits, the movers and shakers of the eighteen hundreds come to startling life—from the Revolutionary War hero Marquis de Lafayette, young Queen Victoria, and President Andrew Jackson to the stars of the international stage. Many of these works were created in Philadelphia, a crossroads for politics and culture at the time.
In addition to his voluminous portrait practice, Sully had a vigorous interest in subject pictures that centered on theatre, literature, and fairy tales. He often created these paintings—which have been all but forgotten—to offset the effects of the economy on his career and to extend his brand.
Thomas Sully: Painted Performance
offers a new look at an American Old Master. The exhibition is the first retrospective of the artist in thirty years, and the first to explore the artist's entire career in depth. Nearly eighty paintings from public and private collections across the U.S. and Great Britain celebrate the full range of Sully's artistic imagination for a twenty-first century audience, including the lifelong love of the theatre and performance that permeates all his works.
Born into a theatrical family that had emigrated from England, Sully made his own debut on the stage in South Carolina as a child. His early commissions arose from his family connections in the theatre worlds of New York and Philadelphia. His images of famous actors and actresses in their most acclaimed roles made his reputation and kept his fame alive throughout his career. At the same time, he composed subject pictures drawn from well-known plays, novels, and even fairy tales, staging these painted scenes as if they were frozen moments from a play.
Whether painting a queen of the stage or a minister, a popular heroine from Charles Dickens or a member of his own beloved family, Sully created characters on canvas full of personality, drama, movement, and activity. Both Sully's portraits and subject pictures reveal his intuitive understanding of William Shakespeare's famous lines from As You Like It: "All the world's a stage/And all the men and women merely players."
Thomas Sully: Painted Performance
is organized by the Milwaukee Art Museum. It has been co-curated by Dr. William Keyse Rudolph, the Museum's Dudley J. Godfrey Jr. Curator of American Art and Decorative Arts and Director of Exhibitions, and Dr. Carol Eaton Soltis, Project Associate Curator of American Art, Philadelphia Museum of Art.
Images from the Exhibition:
Frances Anne Kemble as Beatrice
, 1833
Oil on canvas, 30 _ 25 in. (76.2 _ 63.5 cm)
Pennsylvania Academy of the Fine Arts, Philadelphia, Bequest of Henry C. Carey (The Carey Collection), 1879.8.24
Courtesy of Pennsylvania Academy of the Fine Arts, Philadelphia
Major Thomas Biddle
, 1818
Oil on canvas, 36 1⁄2 _ 28 1⁄16 in. (92.7 _ 71.3 cm)
Pennsylvania Academy of the Fine Arts, Philadelphia, Bequest of Ann E. Biddle, 1925.8
Courtesy of Pennsylvania Academy of the Fine Arts, Philadelphia
Cinderella at the Kitchen Fire
, 1843
Oil on canvas, 50 _ 58 in. (127 _ 147.3 cm)
Dallas Museum of Art, gift of the Pauline Allen Gill Foundation, 2005.1
The Torn Hat
, 1820
Oil on panel, 19 1⁄8 _ 14 5 ⁄8 in. (48.6 _ 37.2 cm)
Museum of Fine Arts, Boston, Gift of Miss Belle Greene and Henry Copley Greene in memory of their mother, Mary Abby Greene (Mrs. J. S. Copley Greene), 16.104. © 2013, Museum of Fine Arts, Boston
Child on the Sea Side
, 1828
Oil on canvas, 56 1 ⁄ 2 _ 36 1 ⁄ 2 in. (143.5 _ 92.7 cm)
The Rosenbach Museum & Library, Philadelphia, 1954.1885
Andrew Jackson
, 1845
Oil on canvas, 20 3 ⁄8 _ 17 1⁄4 in. (51.8 _ 43.8 cm)
National Gallery of Art, Washington, Andrew W. Mellon Collection, 1942.8.34.
Image courtesy of the National Gallery of Art, Washington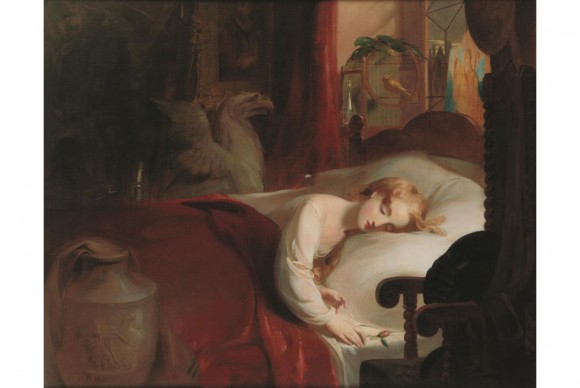 Little Nell Asleep in the Curiosity Shop
, 1841
Oil on canvas, 44 _ 56 in. (111.8 _ 142.2 cm)
John Frederick Lewis Collection, Rare Book Department, The Free Library of Philadelphia
Sarah Esther Hindman as Little Red Riding Hood
, 1833
Oil on canvas, 52 1 ⁄2 _ 32 1 ⁄2 in. (133.4 _ 82.6 cm)
The Maryland State Archives, MSA SC 4680-10-0096:
Photo by Harry Connolly">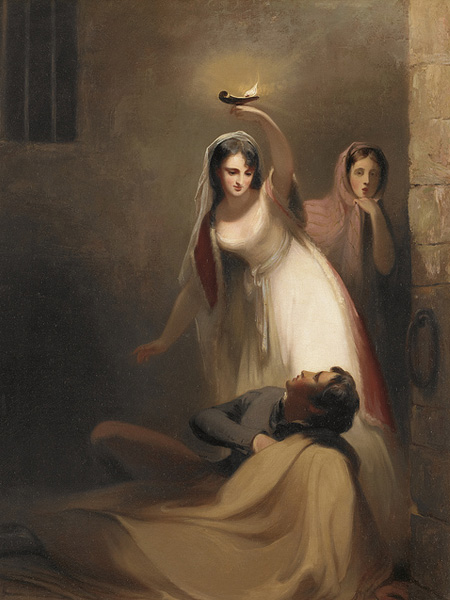 Prison Scene from J. Fenimore Cooper's "The Pilot": Cecelia Howard and Katherine Plowden Arousing the Prisoner Edward Griffith from His Slumber
, 1841
Oil on canvas, 37 _ 28 in. (94 _ 71.1 cm)
Birmingham Museum of Art, Museum purchase in honor of Richard Murray, former director, with funds provided by Dr. Walter Clark, EBSCO Industries, Mr. John Jemison, Jr., Dr. Cameron McDonald, Dr. John Poyner, Mrs. Alys R. Stephens, Mr. Elton B. Stephens, Jr., Mr. Crawford L. Taylor, Jr., and the 1984 Museum Dinner and Ball, 1984.67
George Frederick Cooke in the Role of Richard III
, 1811–1812
Oil on canvas, 92 1/8 x 58 1/2 in. (234 x 148.59 cm)
Pennsylvania Academy of the Fine Arts, Philadelphia
Gift of friends and admirers of the artist, 1812.1
A nice review