Stephen Westfall,
Canon
, 2002 (National Academy Museum)
From September 16 to December 31, 2011 the National Academy Museum, 1083 Fifth Avenue, 89th/90th Streets presented
An American Collection,
the first rotation of a salon-style installation of approximately 100 works from
National Academy Museum
's collections of over 7,000 works of art and architecture.
An American Collection
presented paintings by masters who charted the course of American art from 1820 through the 1970s, starting with artist, inventor, and National Academy founder Samuel F.B. Morse.
Highlights of the exhibition include works by Asher B. Durand, a leading and influential American landscape painter, among them his 1850
Landscape,
which presents two artists amid an idealized landscape of the Hudson Valley.
William Merritt Chase chose the socially provocative title of
The Orphan
(1884) for his tender rendering of a waif.
Reginald Marsh succeeds in his goal of bringing the vitality of Peter Paul Rubens and Eugène Delacroix to a Coney Island attraction in
Barrel of Fun
(1943).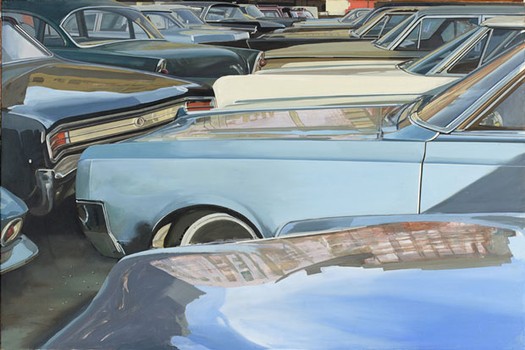 Richard Estes's
NYC Parking Lot
(1969) turns the reflections of buildings on the hoods and in the windows of cars into an urban landscape, a subject that captivated him from the late 1960s through the 1970s.