Forty-nine works by such major figures in American art as George Bellows, William Merritt Chase, Childe Hassam, John La Farge, Maurice Prendergast, Theodore Robinson, John Singer Sargent, John Twachtman, and J. Alden Weir were on view in
American Impressionism and Realism: The Margaret and Raymond Horowitz Collection
at the National Gallery of Art, 24 January-9 May 1999.
Everett Shinn, Matinee, Outdoor Stage, Paris, 1902, pastel on paper, 18 x 26 inches, collection of Margaret and Raymond Horowitz
The exhibition of superb oil paintings, pastels, watercolors, and drawings by twenty-five American artists was the first public display of the renowned collection in a quarter of a century.
Edward Potthast, Beach Scene, c. 1915, oil on panel, 11 x 15 7/8 inches, collection of Margaret and Raymond Horowitz
Exhibition Highlights
Known for its exceptional quality, the Horowitz Collection is the result of deeply personal yet thoroughly informed choices. It embraces every category of subject, from portraits and self-portraits to figure and genre paintings to landscapes and still life. Important paintings by key figures in American impressionism include
Childe Hassam's exquisite
Poppies
(1891);
Theodore Robinson's meticulously structured
Low Tide, Riverside Yacht Club
(1894); and
Frank W. Benson's idyllic
A Summer Day
(1911).
Striking realist paintings that were on view are
George Bellows'
Emma in the Purple Dress
(1919), a psychologically compelling portrait of the artist's wife, and
Alfred Maurer's
At the Shore
(1901), a scene depicting a popular beach near New York City.
The collection includes exceptional works on paper. Among the breathtaking pastels are Chase's powerful
Self-Portrait
(c. 1884) and
Back of a Nude
(c. 1888), and
Robert Blum's
The Blue Obi
(c. 1890-1893).
Drawings and watercolors by John La Farge, John Singer Sargent, Maurice Prendergast, and William Glackens are also on exhibit.
Some artists are represented by single works, as in Cecilia Beaux's pastel portrait of
Ethel Page (Mrs. James Large)
(1890) and
Robert Vonnoh's
Springtime in France
(1890), while other artists are represented several times in diverse media. The six Chases in the collection reflect the artist's achievement at its highest level of technical and expressive power, as do the four Robinsons, four Prendergasts, three Hassams, two Blums, and two Dennis Miller Bunkers.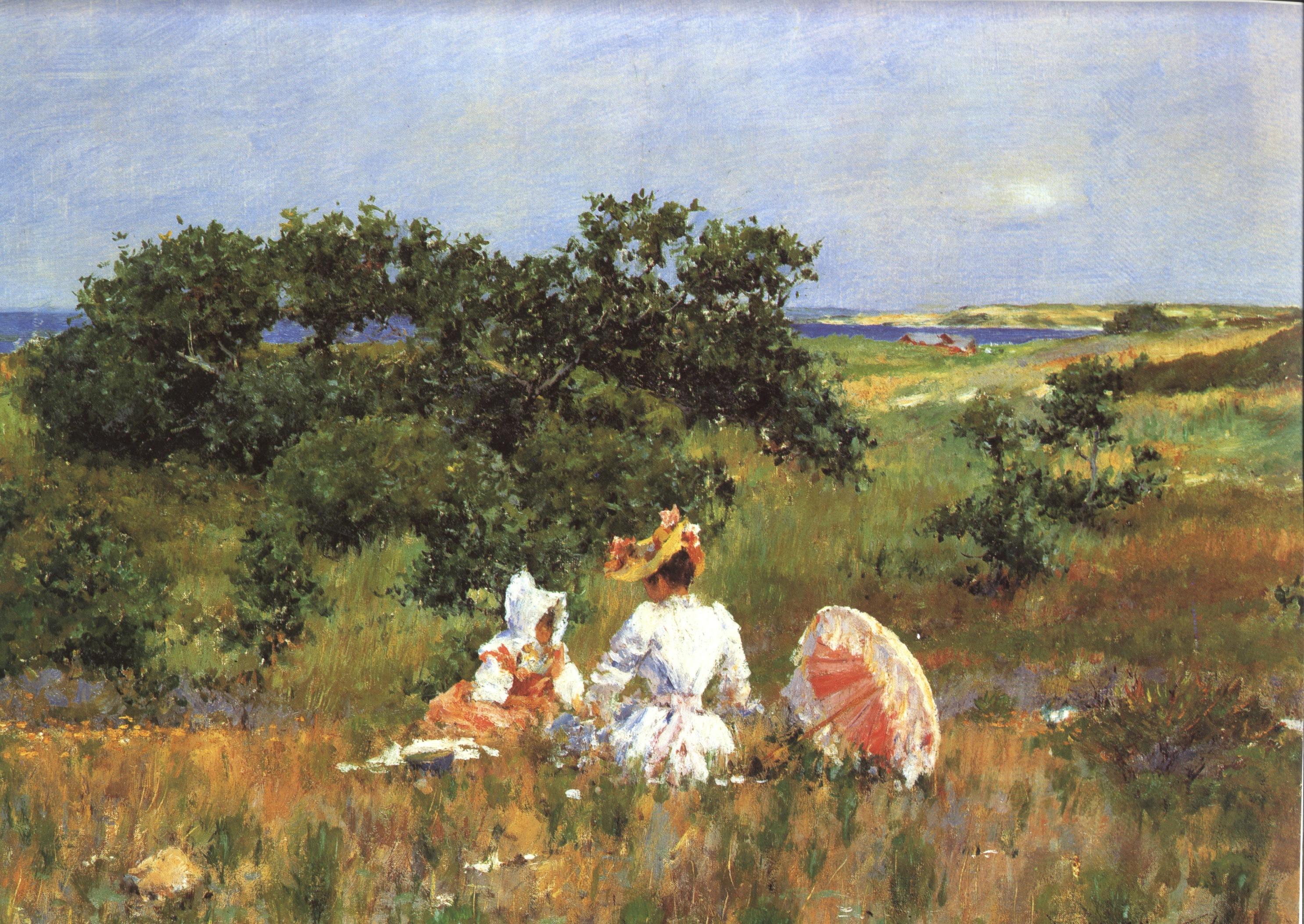 William Merritt Chase's radiant Shinnecock landscape
The Fairy Tale
(1892);
The Collectors
Margaret and Raymond Horowitz--pioneers in the field when they began collecting American art in the early sixties share a passion, intellectual rigor, and vision for the kind of art they have acquired. Focusing on American impressionism and turn-of-the-century art, they are drawn to intense and intimate portraits and self-portraits, landscapes and urban scenes, and works that reflect a joyous celebration of life. Works from their collection have been generously lent to many exhibitions and museums throughout the years, and the collection was exhibited at The Metropolitan Museum of Art in 1966 and again in 1973. Over the last twenty-five years, the Horowitzes have refined and strengthened their collection significantly, adding such major works as Twachtman's September Sunshine (c. 1895) and Chase's Reflections (1893).
Two paintings in the exhibition, Hassam's
Poppies
(1891) and Weir's
U.S. Thread Company Mills, Willimantic, Connecticut
(c. 1893-1897), are partial and promised gifts to the National Gallery from the Horowitzes, who were members of the National Gallery's Collectors Committee from 1985 to 1993. Raymond Horowitz is currently a member of the Trustees Council.
Related Exhibition Information
The exhibition was organized by Nicolai Cikovsky, Jr., senior curator of American and British paintings at the National Gallery of Art. The exhibition was accompanied by a fully
illustrated 196-page catalogue
with 85 black-and-white and 57 color reproductions.