Twentieth-Century American Art: The Ebsworth Collection
, more than 70 works from one of the premier private holdings of American modernist art, was on view in the East Building of the National Gallery of Art, Washington, 5 March through 11 June 2000. The selections, from the collection of Mr. and Mrs. Barney A. Ebsworth of St. Louis, Missouri, reveal the dramatic development of American modernism. They include important paintings and a small number of exceptional sculptures and works on paper by such renowned artists as Charles Burchfield, Alexander Calder, Charles Demuth, Willem de Kooning, Arthur Dove, Arshile Gorky, Morris Graves, Marsden Hartley, David Hockney, Edward Hopper, William Glackens, O. Louis Guglielmi, Jasper Johns, Ellsworth Kelly, Gaston Lachaise, Franz Kline, John Marin, Joan Mitchell, Alice Neel, Georgia O'Keeffe, Claes Oldenburg, Jackson Pollock, Robert Rauschenberg, Charles Sheeler, David Smith, Joseph Stella, Wayne Thiebaud, and Andy Warhol, in addition to less familiar names such as George Ault, Peter Blume, Francis Criss, John Storrs, Bob Thompson, and others.
The exhibition was organized by the National Gallery. It also traveled to the Seattle Art Museum, where it was on view 10 August through 12 November 2000.
"The Ebsworths selected works to please themselves, and not, as often happens with museum collections, to present a visual version of the accepted linear history of modern art. This offers visitors an opportunity to view the development of American modern art from fresh perspectives," said Earl A. Powell III, director, National Gallery of Art. "We are very grateful to the Ebsworths for their generosity in making their collection available for this exhibition."
The exhibition began with American modernism's roots in European art as seen in the 1913 Armory Show in New York City, to its dominance on the world scene, and ends in the late 1960s, just before many critics proclaimed the death of painting. Among the well-known masterworks are
Georgia O'Keeffe's
Black White and Blue
(1930), the culmination of a series of cross paintings that the artist made in New Mexico;
Charles Sheeler's stunning paintings of the Ford Motor Company's then-modern River Rouge plant near Detroit, such as
Classic Landscape
(1931);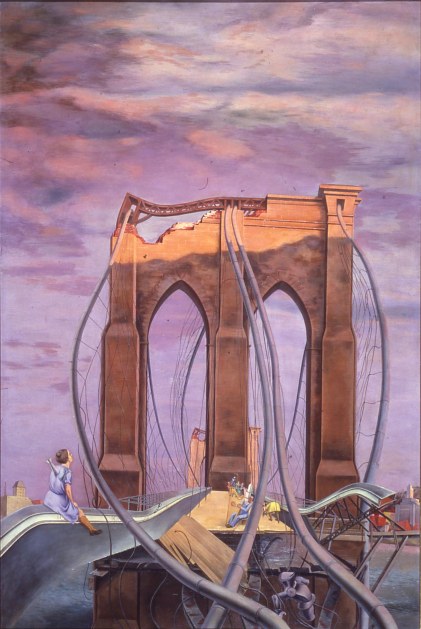 O. Louis Guglielmi's extraordinary surrealist works:
Mental Geography
(1938) and
Land of Canaan
(1934); and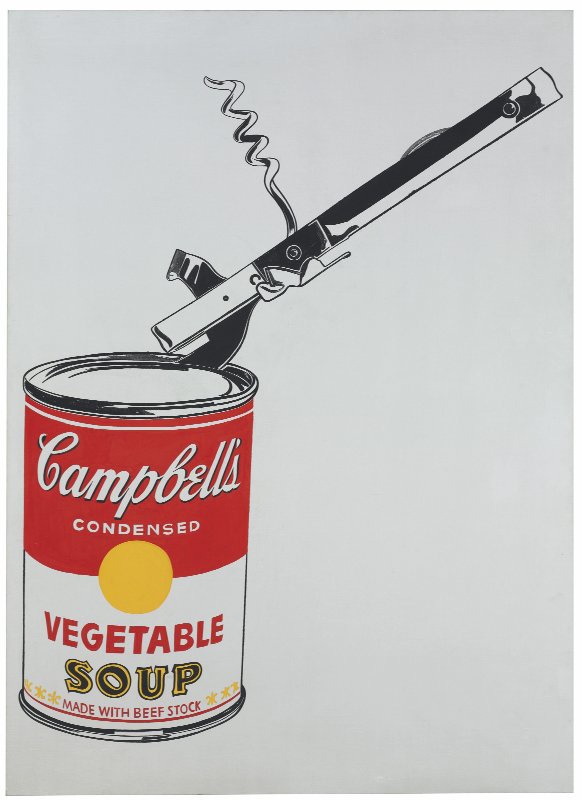 Andy Warhol's
Campbell's Soup with Can Opener
(1962), the only painting of its kind from his iconic series featuring an opener poised to cut through the can lid.
Works by established artists are seen anew when placed in juxtaposition with works by their lesser-known contemporaries. The biomorphic abstractions in
Arshile Gorky's
Good Afternoon Mrs. Lincoln
(1944)
are similar in approach to Alice Trumbull Mason's
Forms Evoked
(1940).
The spare and surreal atmosphere in Edward Hopper's classic
Chop Suey
(1929)
is also seen in Francis Criss'
Melancholy Interlude (Grain Elevator)
(1939). These juxtapositions illustrate the value of this great single collection: it allows the viewer to create his or her own history of American art and its relationship to American culture.
The curator for the exhibition was Franklin Kelly, curator of American and British paintings at the National Gallery of Art.
The
fully illustrated catalogue
published by the National Gallery of Art and Harry N. Abrams, Inc., includes an introductory essay by Bruce Robertson, professor of art history, University of California, Santa Barbara, and entries on each of the works written by National Gallery of Art curators.