"
Graphic Masters: Highlights from the Smithsonian American Art Museum
," a traveling exhibition opened Sept. 13, 2003 at the Heckscher Museum of Art in Huntington, N.Y. It celebrated the extraordinary variety and accomplishment of American artists' works on paper. These 75 exceptional watercolors, pastels, and drawings from the 1860s through the 1990s revealed the central importance of works on paper for American artists, both as studies for creations in other media and as finished works of art.
Artists included in this exhibition ranged from 19th-century masters such as Winslow Homer, John La Farge and Thomas Moran to modern virtuosos of color such as William H. Johnson and Stuart Davis to contemporary artists Wayne Thiebaud, Jennifer Bartlett and April Gornik.
A variety of materials and techniques were featured in the exhibition. "Graphic Masters" includes bold designs for stage settings, book illustrations, studies for paintings and spontaneous creations that reveal the artist's thought processes and working methods. The medium of drawing often reveals greater experimentation than an artist's more formal work, since it is considered a freer and more intimate form of expression. Pastels allow artists to draw directly in color, blurring traditional distinctions between drawing and painting. Watercolor has been a favorite medium for capturing the light and color of nature. Even as works on paper became larger and more finished, competing in scale with easel paintings, they retain a sense of the artist' s hand, the immediacy of a thought made visible.
Thomas Wilmer Dewing's meticulous portrait "
Walt Whitman
" (1875), on view in the exhibition, gives a sense of the famous poet's likeness and his character. Dewing began this drawing with faint pencil lines, and proceeded to model the features with delicate, cross-hatched chalk lines, which he then smoothed and smudged so that the individual lines seem to disappear. Highlights of white chalk throughout the face enliven the image. When this drawing was exhibited in Boston in 1875, critics singled it out for its excellent technique.
Thomas Moran, well known for his sweeping landscapes of the American West, accompanied a survey party to Yellowstone in 1872. The survey group traveled on horseback, and Moran often only had time to capture his impressions of a site in a black-and-white sketch. When they returned to Thomascamp, he would add a small amount of color to his sketches.
The highly finished and detailed watercolor "
Above Tower Falls, Yellowstone
" (1872) was probably created back in Moran's studio, based on his numerous field sketches.
Shin-Au-Av-Tu-Weap (God Land), Cañon of the Colorado. Utah Territory
" (about 1873) was completed in Moran's studio, also using his sketches of the scene and photographs.
Despite its modest size, John La Farge's "
Water Lily in Sunlight
" (about 1883) takes advantage of the fluidity of the watercolor medium to suggest, rather than describe, the subtleties of nature. The artful asymmetry of the composition recalls Japanese design, as does the bird's-eye perspective on the subject.
In the watercolor "
Bear Hunting, Prospect Rock
" (1892), Winslow Homer presents man as an essential part of nature, neither overwhelmed by its grandeur, nor fully in control of the wilderness. Homer began painting Adirondack subjects in 1870 and returned to them intermittently over four decades. The figures in this work are modeled on guides from the North Woods Club where Homer spent much of his time. Prospect Rock, located less than a quarter of a mile away from the clubhouse and reached by a graded trail, was one of Homer's favorite spots to paint.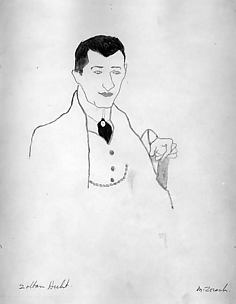 Marguerite Zorach developed her modernist style while studying in Europe. She painted a watercolor and pencil portrait of fellow artist
Zoltan Hecht
in 1913, a year after she returned to the United States from Paris. Her interest in the expressive qualities of colors, rather than in accurate description, is clearly indicated by the red-orange eyebrows, bright green eyes and yellowish outline of her sitter's face and hands.
"
Landscape (Paysage Fauve)
" (1913) is one of Man Ray's most abstract early compositions. In this watercolor, he abandoned direct observation of nature in favor of a more spontaneous, imaginative rendition using simplified forms and bright colors. In the title, "fauve" (French for wild beast) refers to a group of early 20th-century artists who used bright, non-descriptive colors in their art.
John Marin also was interested in conveying the sense of a place rather than a specific, recognizable site. He visited Maine almost every year from 1914 until his death in 1951, painting seascapes of its rugged coast. In his watercolor "
The Sea, Maine
" (1921), calligraphic lines suggest movement and energy rather than superficial appearances. A master of the watercolor technique, Marin varied his application of color from thin, transparent washes to dense, opaque strokes.
William H. Johnson painted African Americans in the rich variety of their lives, from Harlem to the rural South. Striking color relationships and strong rhythmic patterns reveal his sophisticated approach. In his charmingly naive gouache composition "
Going Out
" (about 1939), Johnson depicts a mother and daughter dressed to the nines and ready for a night on the town. Johnson's use of brilliant colors and bold stripes in "Lunchtime Rest" (about 1940), recalls the multi-stripe designs of West African textiles and the African American tradition of freehand quilt-work.
Stuart Davis' gouache "
Impression of the New York World's Fair
" (1939) records an important mural that no longer exists. The mural was created for the Communications Building of the 1939 World's Fair in Flushing, N.Y. The fair provided a much-needed vision of hope and prosperity to counteract the dislocation and confusion of the Depression. Davis' bold, bright colors and highly abstracted forms conveyed that exuberance and confidence in the future.
Philip Guston's ink drawing "
Hovering
" (1976), juxtaposes comic, grotesque and serious elements as a means of exploring questions that have no simple answers. The large, bulbous head is Guston, the artist, while the faceless, vertical head at his side is his wife, Musa, literally his muse. The clock with numbers refers to the passage of time, while the watch face without numbers suggests immortality.
William T. Wiley's humorous and quirky parody in watercolor of a map of the United States, "
Portrait of Radon
" (1982), refers to darker meanings beneath its cartoon-like surface. Wiley grew up in Richland, Wash., site of the U.S. government's Hanford Atomic Works, a plutonium production plant. This plant's legacy was a massive amount of radioactive waste that contaminated the surrounding area. The dark, diagonal line stretching from New York to Los Angeles represents a virtual highway—12 lanes wide and 1 foot deep—constructed of radioactive tailings from the country's nuclear power plants. Wiley's verbal pun on the title in the lower left, "poor trait of radon," reinforces the irony of drawing a portrait of something invisible.
Wayne Thiebaud is attracted to specific foods by their formal beauty and by the care with which the chef has prepared and presented the item. In "
Neapolitan Meringue
" (1986–1999), a pastel over lithograph, Thiebaud relishes how the meringue topping simultaneously glows and reflects light, suggesting the softness of a snowbank and the rich sensuality of white paint.
To accompany the exhibition, the Smithsonian American Art Museum published a lavishly illustrated souvenir book, "
Graphic Masters: Highlights from the Smithsonian American Art Museum
," written by Joann Moser, senior curator of graphic arts at the Smithsonian American Art Museum. The book features 52 color illustrations and brief discussions of the individual artworks in the exhibition.